Rum Runners and Pirate Saints
Claria, Part 2 : Alicia's Gift
by Theresa C. Gaynord
---
ll
Four Years Later
A camera captures the moments,
splitting off rapidly into different
sections of the room with
extraordinary skill before centering
upon Alicia's face.

Escobar's hands shake emphatically
as if he needed to explain himself.
One can only look at him to know,
the naked affection he is feeling.
Nobody speaks for a moment, it's true,

time stands still among the rumba music
that dips and rises in the evening air;
the acoustics echoing mercilessly in an
explosion of rhythm that has most of
the guests dancing in semicircles, hips

swaying to the beat. And Escobar, looking
as if somebody else did it, as if it wasn't him
at all, interrupting the flow. It is a moment.
Something of fondness in his expression
among the haggling of conversations and

pleasantries at the party. A greenish light fills
the room like a toxic cloud, streaking Alicia's
tangled black hair, thick with gushing waves
covering her face, cake icing stuck to one of
her locks,

a birthday napkin tucked under her chin.
"Uncle Escobar", she says with a giggle, as
sculptured piñatas and multicolored balloons
hang in the air, floating in visual time with
ghostly buoyancy.

A tiny plate of empanadas, meringues, and
guava cakes lay before her and she
takes a bite of each, licking her fingers, drinking
coca-cola; satisfaction written all over her little,
dimpled face.

The smell of black bean soup, roast pork, tamales,
flan and sangria permeate throughout the house
as Maria helps her sister, Rosario, in the kitchen.
The routine restores the central pattern, breaking
any tension with temporary normalcy.

Scant attention is paid to the discordant roar
of a jeep approaching the driveway. Worn
brakes whine as the vehicle parks unevenly
outside of the Garcia home. Rosario
meets the driver at the curb.

He slips out from behind the wheel and an empty
bottle of rum clatters to the pavement at his feet.
He slurs his words, excuses for his lateness, before
a thought gives him pause, and he turns back at
Rosario for a split second.

He notices the curve around her waist; the house
itself not visible to his blurred vision. He approaches
the rear of the jeep. Water sloshes as he lifts a large
plastic bucket up out of the open cab. The foothpath
leads him home

where eyes widen as he enters the party room.
"Carlos", Rosario whispers as Alicia rushes over.
"What's in the pail, papa?" A collective gasp stops
all festivities as Carlos crouches down, resting the
bucket on the ground. Inside, a dark form swishes

and swirls. It is the color of motor oil and just as shiny.
"It's a Claria."
"A Claria?"
"Yes, he's a very special fish. You can put him in your tank."
"Can I touch it?"
Alicia reaches into the bucket. The Claria reacts immediately,
rearing up toward her fingers. It's miniature mouth open wide.
Alicia squeals, pulling back just in time.

"Be careful, honey. He might be mad because I took him away from his mama."

"Oh, thank you, papa. This is the best present ever."
Alicia hugs him tightly.

Maria stands with Escobar near the house. Carlos eyes them,
the smile leaving his face momentarily.

To be continued…

---
© 2019 Theresa C. Gaynord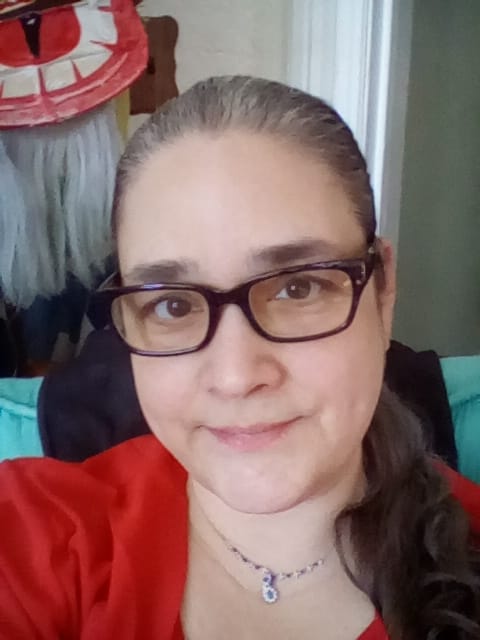 Theresa likes to write about matters of self-inflection and personal experiences. She likes to write about matters of an out-of body, out-of-mind state, as well as subjects of an idyllic, pagan nature and the occult. Theresa writes horror, as well as concrete gritty and realistic dramas. Theresa is said to be witch and a poet. (within the horror writing community).
Find more by Theresa C. Gaynord in the Author Index.
Comment on this story in the Aphelion Forum
Return to Aphelion's Index page.