Ultima Mortis
by Alexis Child
---
I throw her to the water's edge,
cover her with stones.
I regret, but then forget
her cold beauty that carried me away,
where the sun now sleeps completely.

An evil conscience of glory and relief
makes me think the Devil is the master
of this skill.
How lovely she is on a bed of flowers.

There is a morbid charm where a sob
escapes under frothy blood.
My soul trembles
on the banks of death, where she is
swept away,

Far from the sight of God
there is still a guilty desire
for the laughter of the sea,
those poisonous eyes
breathing life into me.

A scarlet tear runs from her cheek.
This is goodbye.
The crooked shadows look down with
shame to wake the dead.
Heaven and Hell collide.

Please don't be dead.
Just one more miracle?
Drowning in her panicky moans,
I realized I was indeed, a ghost,
watching the night sky made up of bones.

---
© 2019 Alexis Child. All rites reserved until the worms crawl in…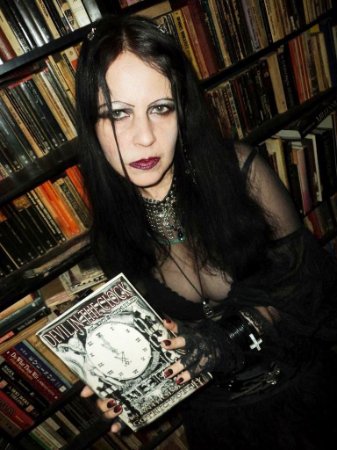 Alexis Child hails from Toronto, where horror in its purest form is a calculated crime against both the aspirations of the soul and affections of the heart. She worked at a Call Crisis Centre, befriending demons of the mind that roam freely amongst her writings, once lived with a Calico-cat child sleuthing all that went bump in the night, and is haunted by the memory of her cat.
Her fiction has been featured in Schlock Magazine, The Official Fields of the Nephilim Site, SinisterCity, and U.K.'s Dark of Night Magazine.

Her poetry has been featured in numerous online and print publications, including Aphelion, Black Petals, Blood Moon Rising Magazine, The Horror Zine and elsewhere.

Her first collection of poetry, Devil in the Clock, a dark and sinister slice of macabre horror, gothic, surreal & supernatural poetry is now available on Amazon.
Visit her website: http://www.angelfire.com/poetry/alexischild/
Find more by Alexis Child in the Author Index.
Comment on this story in the Aphelion Forum
Return to Aphelion's Index page.