The Alchemy of Death
by Alexis Child
---
I am breaking apart like the world. There is
a house of blackness. Folding my hands on
a skull, it is a love of death that sickens everyone.
She is the vampire of us all. Her mouth is red,
losing life after life. The dark earth drinks them.
I shall not let go like a cold alien hurdled from a star.
Remind me again why we feel lost with the stars
up above?

I create painted corpses, staring in the light.
No longer slaves, but comrades of their griefs,
the squaws augment the forces of their chiefs.
Let justice declare the shameful cause.
Chanting strange dirges in a minor key, a red
lotus opens so near to Mother Nature's heart.

Come, Kali, come and dance in my heart.
I am a garden of black. I stand accused
and point the finger too. I dream of peace,
in these vague and monstrous desires.
Stand on the horizon. Attract more
of the living to deathly massacres!

It's raining under the dead sun, a devil
at the switch to blame. There is no
miracle as cruel as this; I have
not murdered, what has murdered me.
Be brave my muse, darker truths
are engraved on our bones. I cry for
the living. What good are our tears
when we fight the devil with demons?

The flames are beautiful and bright,
dancing in the dark. In the end
is the beginning.
Hallowed by mirth,with
fortitude accept your curse!
---
© 2022 Alexis Child. All rights reserved until the bones decompose…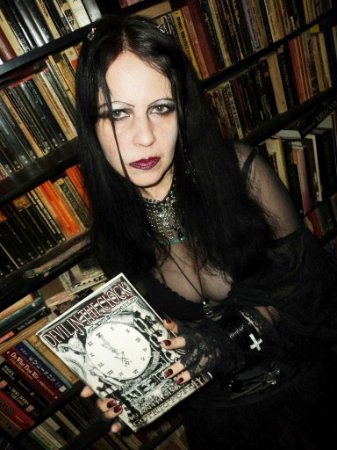 Alexis Child hails from Toronto, Canada; home to dreams and nightmares. Alexis is a former Social Service Worker, befriending the demons that roam freely amongst her writings. Alexis once lived with a Calico-cat child sleuthing all that went bump in the night and is haunted by the memory of her cat. She had a small measure of underground success with her gothic rock and darkwave bands in the past. Besides having rare mystical experiences she hopes are not just short circuits in the brain, she writes dark poetry, starving in the garret with her muse. A starving child is a frightful sight. A starving vampire is even worse. Please donate non-perishable food items and B-negative blood (and make it a double!).
Alexis' fiction has been featured in Danse Macabre, Schlock, Screams of Terror, and U.K.'s Dark of Night Magazine. Her poetry has been featured in numerous online and print publications, including Aphelion, Blood Moon Rising, Illumen, Metaphysical Times, Night to Dawn, ParABnormal Magazine, The Sirens Call, Witch House 2 and elsewhere. Her first collection of poetry, Devil in the Clock, a dark and sinister slice of the macabre is available on Amazon. Her second collection of dark poetry, Singing the Bones, is available on Amazon and from Cyberwit Publishing.
Visit her website: http://www.angelfire.com/poetry/alexischild/ and her YouTube Channel: https://www.youtube.com/channel/UCg6S5u4yX73kA1ZWGnKaEBA/videos
Find more by Alexis Child in the Author Index.
Comment on this story in the Aphelion Forum
Return to Aphelion's Index page.