Tell Me a Ghost Story…
by Alexis Child
---
Feast on my magical blood
Join me in the forbidden forest
Created from sleepwalking and nightmares
Conjure up the ghosts
Raise the dead and the fear to life
The overflowing milk
In August's dismal light,

The dangerous face in the window
Something outside in the dark waiting
Send it back to the terrible tomb
Crumbling in silence to dust and decay
Awake from your silence
For freedom and life
Conquer that Isle long forgotten!

We are the creators of ghosts
And monsters
Never free of the horrors
The shape of our fears bring us to our death
Mad love between the dog and the devil
The evil prevails that lives inside our mind
Battling the demons of darkness
For just one more night

But the demons made us believe
They knew what was best
Cutting the heart right out of our chest,
And the wind with the wolf's head
Howls at the bridge
Hiding in shadow
This is the devil's allegiance
Follow the bones,

Dance on the courageous backs
of the broken
Only they can be trusted
Beyond this sound of distant thunder,

The vanished smile of days
Our grieving in vain
Skeleton fingers drop over
The moon's pale beam
Mourning over a dreamless sleep,

Warring psychosis. Go into the night.
Preserve me in myself in this hazardous
Fragment of a face,
These ashes are laid to rest with great
Solemnity!

---
© 2022 Alexis Child. All rights reserved until the bones decompose…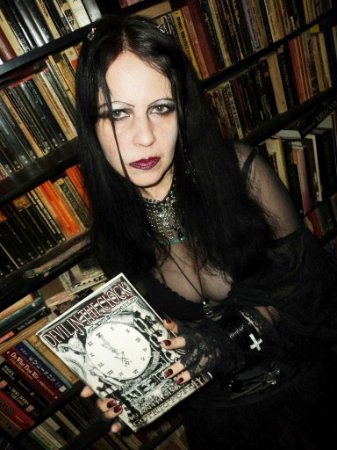 Alexis Child hails from Toronto, Canada; home to dreams and nightmares. Alexis is a former Social Service Worker, befriending the demons that roam freely amongst her writings. Alexis once lived with a Calico-cat child sleuthing all that went bump in the night and is haunted by the memory of her cat. She had a small measure of underground success with her gothic rock and darkwave bands in the past. Besides having rare mystical experiences she hopes are not just short circuits in the brain, she writes dark poetry, starving in the garret with her muse. A starving child is a frightful sight. A starving vampire is even worse. Please donate non-perishable food items and B-negative blood (and make it a double!).
Alexis' fiction has been featured in Danse Macabre, Schlock, Screams of Terror, and U.K.'s Dark of Night Magazine. Her poetry has been featured in numerous online and print publications, including Aphelion, Blood Moon Rising, The Horror Zine, Metaphysical Times, ParABnormal Magazine, The Sirens Call and elsewhere. Her first collection of poetry, Devil in the Clock, a dark and sinister slice of the macabre is available on Amazon. Her second collection of poetry, Singing the Bones, is available on Amazon and from Cyberwit Publishing.
Visit her website: http://www.angelfire.com/poetry/alexischild/ and her YouTube Channel: https://www.youtube.com/channel/UCg6S5u4yX73kA1ZWGnKaEBA/videos
Find more by Alexis Child in the Author Index.
Comment on this story in the Aphelion Forum
Return to Aphelion's Index page.