Lost Lady

by Theresa C. Gaynord
---
The sidewalk is strewn with bits of glass,
there's a shy ghost that walks with rose in
hand, pausing before a mirror in her favorite
shop window. She likes the practicality of
things, the way a cyclist can pedal slowly,
watching the sunset even when it's downright
cold outside. The poncho she wears flaps in
the breeze, and to her it's the most natural
thing in the world; the way everything collides
in mid-stride.

There are sparks of individual light all around
her, in the vitality of her consciousness. The
essential part of her is gone but there's
something that exists far away from the human
body. It's her intellectual capacity, her emotional
makeup, and the soul beyond its basic form that
manifests itself through daily routine. The sounds
of church chiming remind her of a sweet angel's
laughter and the way flakes of snow affix themselves
on spruce twigs, left at the mercy of weather.

She doesn't speak about recriminations, even when
her thoughts return to him, the man who dwells in
her heart's innermost haven, where scavengers of
music, dance, underneath mistletoe. Clouds of
incense quicken their pace, retelling the story of
the young woman that died in a car accident, on the
eve of her wedding day. Broken windshield, a mini gown,
swing back and forth across a line of vision where
vital discoveries call up words as melodies begin.

Sing; thrown in a heap of crash and clatter, something
amazing unites the whole, away from the mortal blow
of the heavens and earth, where the debt of death
is paid by blood, with a fatal kiss upon a brow.
Forever flows with rivers of passion, and in her long
procession she still searches for him. The burden of
sorrow a bridge they both shall cross, when twilight
throws its shadows over ebbing tide; and still she
dreams, heart young, hot and restless, in the wavering
image here, where both remain as strangers unto you.

---
© 2021 Theresa C. Gaynord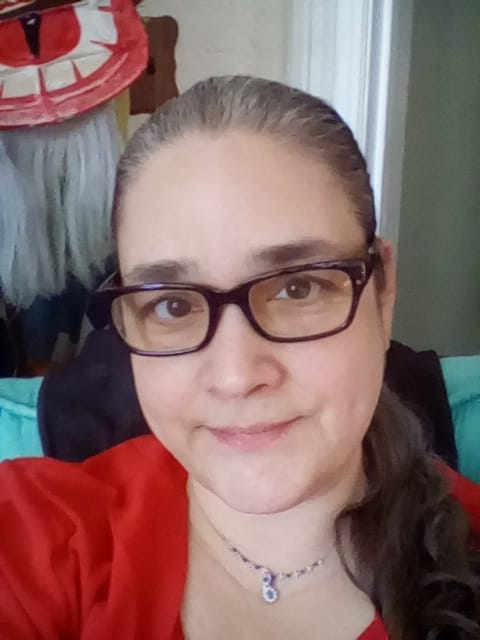 Theresa likes to write about matters of self-inflection and personal experiences. She likes to write about matters of an out-of body, out-of-mind state, as well as subjects of an idyllic, pagan nature and the occult. Theresa writes horror, as well as concrete gritty and realistic dramas. Theresa is said to be witch and a poet. (within the horror writing community).
Find more by Theresa C. Gaynord in the Author Index.
Comment on this story in the Aphelion Forum
Return to Aphelion's Index page.